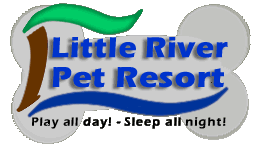 Plan your Pet's Vacation

Do you need information on how to make reservations, our rates, medical requirements, what to bring, what to expect at check in, our hours, location or contact information? Please read our Frequently Asked Questions page carefully to start planning your pet's vacation. You can also read about Daycare here.
When you're ready you can make a reservation online. Don't forget to download our pre-registration form to bring with you to Check-In. You can also call 440/236-8905 or email staff@littleriverpetresort.com.
NOTE: Because we are frequently full, reservations are required. To accomodate others on our waiting list, cancellation of a reservation must be received at least one week prior to scheduled check-in time to avoid a charge of 2 days boarding fee.
Please be aware that many dates fill quickly - especially weekends and holidays.
NOTE: There is 5-day minimum for any weekend reservation during our summer season (Memorial Day through Labor Day) and on holidays (Spring Break, Memorial Day, Fourth of July and Labor Day, Christmas, etc.). A weekend reservation is any reservation that includes a Friday or Saturday night.
All rooms are FULL for Boarding and Daycare for the following dates…...
Thanksgiving is full (Nov 23-27, 2023)
However, please make your reservation online to be added to our waiting list.

Create a Custom Vacation Adventure!

The Little River 's menu of services and activities allows you to create a custom vacation schedule for your pet while you're away.



Do you have a couch potato that loves nothing more that sitting with you and getting love and attention? Or maybe she would prefer to chase balls in an open field or hike through the woods! Either way, extra one-on-one attention from our dog loving staff is available.



Check out our menu of activities or take a look at our discounted Vacation Package Deals.

Check out our facility...
Want to tour our facility? Call 440/236-8905 or email staff@littleriverpetresort.com to schedule a tour during our office hours.

Boarding should NEVER be boring!

Going away? Don't just send your dog to a "kennel!" Send them on their own vacation! We are just minutes from Cleveland, Westlake, Strongsville, and Elyria. Browse our site to learn about our

boarding rates and requirements

. We'll see you this summer!
Lodging at the Little River Pet Resort
FEEL GOOD SENDING YOUR PET ON A VACATION!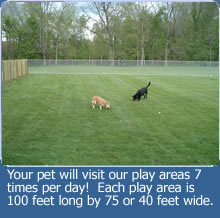 Of course, the best place for your pet is WITH YOU. But since that's not always possible, the next best thing is now available. Don't leave your pet home alone or lock him up in a jail-like cage when you leave town! Send him on an adventure in the country. At the Little River Pet Resort, he'll make friends, get plenty of play and exercise, make new friends, and have all of his needs met until you return.

Our goal is to be the best choice in pet lodging. To achieve this, we are committed to keeping your pet safe, comfortable, and pampered, as well as offering a vigorous, fun and stress-relieving schedule of exercise and play during their stay. Some highlights of our standard lodging include:
At least 5 trips per day out to our 2 acres of grassy fenced-in play areas. If your pet is social, he or she will spend hours per day outside with friends.

Fresh bedding daily, or bring your pet's favorite washable bed from home.

A complimentary bath before check out with a three night stay. (Baths for guests staying fewer than three nights are available.)

Relaxing music throughout the day.

Administering medication is available for $1.50 per administration (maximum charge of $10.00 per day).
Additional activities and services such as Walks in the Woods, One-on-one playtimes, special treats and more.
We encourage you to schedule a visit to our facility and ask about our practices and philosophy.
MEDICAL REQUIREMENTS

For the protection of all of our guests, before arriving for daycare, boarding, grooming, or any other activity, your pet must have current Rabies, Bordetella, and DHLPP vaccinations, as well as a recent fecal test for parasites (within 6 months before check-in).

See detailed information on Medical Requirements by clicking here

For the health of your pet, we will not make exceptions to these requirements. Please read and understand them well in advance of your pet's stay. Don't hesitate to call if you have any questions.